Every single time I read about a fast growing company going under the water due to fraudulent accounting practices and similar white collar crime, I am reminded of this line from the famous letter to the Board by Ramalinga Raju while declaring Satyam's problem.
'It was like riding a tiger, not knowing how to get off without being eaten.'
Here is the whole letter that he wrote.
Satyam Raju's Letter to… by Firstpost on Scribd
Death of a Fintech Iconoclast
Not in the same dramatic fashion and peculiar choice of words, Markus Braun CEO of Wirecard announced his resignation.
For the centuries old financial sector, this was a company that was known as the iconoclast and the trailblazer for disrupting with innovation.
After couple of false starts, the company finally came to center stage in full swing
However, it faltered with a big black hole with the unveiling of largest accounting scandal of 2020
Wirecard filed for insolvency within a week of unearthing of a $4 Billion hole in its books. This first led to ouster and arrest of its CEO and now the insolvency filing, which was a natural outcome.
The initial reports on this indicated that the problem had been lingering for close to 18 months. However, this timeline by Financial Times indicates that there seem to be problems in the company for a long time now. Perhaps from the beginning of the company.
Financial Times though may have made it look more pungent given it was the investigative journal behind it.
The company had been well marketed and positioned, on the basis of some of its successful products, as the innovator that has disrupted the financial industry over the years.
Quite interestingly, the company also fell prey to the evil of round tripping.

In simple words, money was sent from the parent company to an offshore account of a subsidiary at buy the positions at a certain inflated price
The subsidiary used to then make the transaction and transfer the sum for the inflated prices in the parent company's account
This net difference was shown as profit
In nut shell, nothing gained but a money transfer sham that was used to show more profits in the books
Some reports indicate towards some Indian accounts too!

More profits on the books meant higher share price, leading to replacement of Commerzbank from DAX index with Wirecard
This caught attention of a certain Japanese VC who invested close $900 MN in the company
20 months later the inflated profit was no longer sustainable and the balance sheet started to stink.
Wirecard found itself into a situation similar to Satyam – '…Riding a tiger without knowing how to get off without being eaten.'
Finally it burst.
Now, the former (active till last week) Wirecard CEO Markus Braun was known for being a media savvy guy with a lot of attention on the company with frequent press releases and event.
Some say this was long coming as the traits demonstrated by Wirecard were close to what are observed for the next "Big Disaster".
Below are all the traits listed by Financial Times. They term them as 20 warning signs for the next "Big Disaster". Link is here.
1. Massively promotional CEO who actively looks for publicity and spends a lot of time courting Wall Street/investors etc and is very media savvy
2. Huge CEO/Senior Management compensation package NOT tied to cash flow or Earnings but just to Sales and/or the stock price, creating the possibility of egregious wealth creation if the stock goes up a lot. Huge pledging of collateral by the CEO in return for margin loans to fund a billionaire lifestyle
3. Management compensation generally way out of line with peers despite notably less profitability
4. Glossy future projections that have a habit over a long period of being proven to be too optimistic
5. Questionable product quality, ie defects (boon??) or debatable technological leads over similar products
6. Some evidence of self certifying, whether it be through strange international subsidiaries or not having an Auditor or experiencing unusual and slightly sudden end of quarter surges in revenues, up to and including the last day
7. Unusual or unverified and large Receivables in a business where the product is exchanged for cash up front
8. Evidence that the company is existing on a shoestring, not paying Suppliers, Employees, Landlords etc
9. Unusual margin progression, with SG +A going down over time despite a rising global footprint, or GM's staying flat despite much lower ASP's over time, for instance.
10. High levels of Gross Debt. Cash balances not matched by notable Interest Income thereby suggesting they are fraudulent
11. High employee turnover, especially in the LEGAL and FINANCE areas. Co-founders or Board members leaving.
12. Aggressive pursuit via paid third parties and/or "heavies" of any critics or people who have too many questions, which in any case are "boring"
13. Dislike of Hedge Funds
14. Possible Narcissistic Personality Disorder on the part of the CEO. Additional points if he/she uses Twitter a lot
15. Large cabal of outcasts/weirdos/bloggers/Twitter groups who have been saying for years that everything is amiss but just get a lot of criticism because the stock keeps going up ergo they must be idiots
16. Slowing top line growth rate despite all the hoopla and supposed "growth stock" status. Evidence of competitors rapidly eroding unsustainably high market share.
17. Loss making. Ideally never made a profit but likes to pretend it did or failing that, that it will for sure in 2-3 years due to highly questionable new products. But the 2-3 years gets pushed out constantly
18. Extensive use/exclusive use of NON-GAAP Accounting and occasional bridging to get from a Net Loss to a (small) Net Profit via poorly explained one-offs/Other Items/unusually large Credits of some kind in a desperate attempt to get into an Index by illicit means
19. Weak Board, preferably also small and ideally in hock in some way to the CEO, who therefore do his/her bidding. Helps if some of them are related physically to the CEO.
20. Gullible media, gullible analysts and dozens of paid bloggers who produce Price Targets out of nowhere based on "Option Value" or put another way products that are at least 5 years away from having any material impact."
While Wirecard saw its share tank by 97-98%, there is another company run by a media savvy CEO. He is very popular on Twitter and discusses his thoughts openly and quickly in the social media platform.
But a recent look by an independent agency inside the hood of this company's products, gave some really alarming information.
JD Power Automotive Quality Study
JD Power concluded its first ever rating for Tesla. It doesnt look good. Good may not be the right adjective too. Bad is the word. Its bad. Really Bad.
Cars from Tesla seem to have most Problems per 100 vehicles. It seems that they have lost their way as far as marketing is concerned.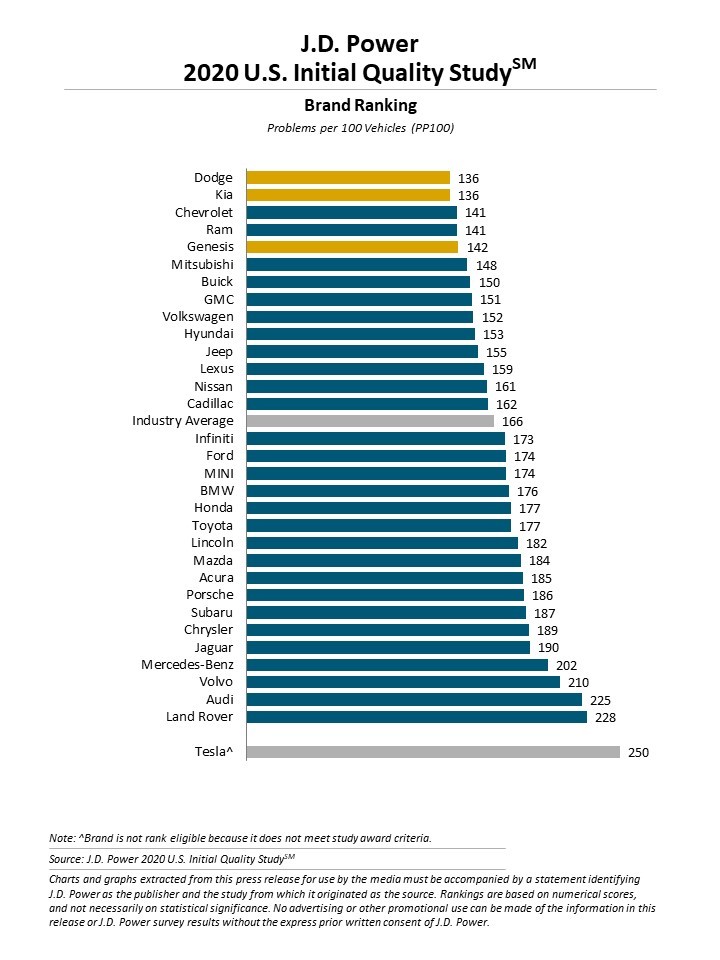 For a company that initially claimed that it would offer unlimited mileage warranty for batteries and drive units, just to revise it later to 4-year/50,000 miles bumper to bumper warranty, this is really not a positive news.
A simple correlation of the companies change in stand on the warranties with this report which benchmarks it against the entire industry, clearly shows that the company has a very long way to go before it can match the quality offered by some of the top brands in the auto industry.
The company has never marketed quality as its USP. However, without quality, it certainly cannot achieve the potential it promises. Also, one must not forget that the Tesla declined to participate in the JD Power survey. Raising doubts, is everything kosher there?
Perhaps we will learn more from the famous twitter handle.